Some people carry nothing in their car trunks, and on the other end are those who pack too much. If you're going to travel extensively or going away for a while, you need to strike a balance between going overboard and not bringing the right gear. Sure you can purchase packaged emergency kits, but if you prefer the DIY approach, here's a list of essential car accessories and items.
Repair Maintenance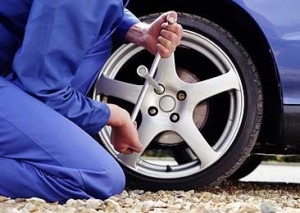 Make sure you have a spare tire and a tire iron and jack because without the two the tire is useless. If your wheels have a security key, bring that along too. You also need the tire sealer and inflater for plugging leaks, and should be enough to get you to the nearest auto service shop.
Jumper cables are necessary because batteries can die anytime, or you can buy a battery booster. Many drivers don't bring the car manual along but it's best to keep it in the glove compartment just in case. A tire pressure gauge is important because by checking tire pressure you'll be able to prolong the life of your tires, improve fuel economy and handling.
Duct tape, WD 40, and car repair information are also essentials. You should always have your auto repair shop's business card, AAA number (if you're a member), and auto insurance forms and documents. All of these can be tucked in the glove compartment so there's no reason not to bring them.
Safety Gear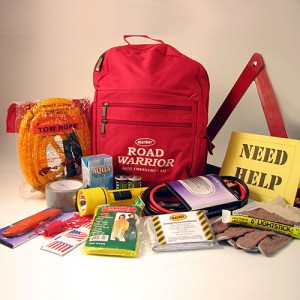 If you spend a lot of time in your car you should have an emergency kit, and maybe a lighter version you can carry. Your kit should be adequate for 72 hours at least and include a first aid kit, flashlight, lighter or other fire starters, and energy bars or instant food that you can heat with water. Don't forget to bring a phone so if there's a signal you can make an emergency call, and bring a USB device charger as well.
You also need several water bottles, a weather radio, and a seat belt cutter and window breaker. These should be used for emergency purposes and must be placed in your glove compartment, not the trunk. A reflective triangle or flares will also come in handy. While GPS systems are everywhere, paper maps are still essential in case your GPS stops working. If it's winter your emergency kit should include a blanket and carpet remnant or cardboard to put under the tires if traction is required.
For comfort and convenience you should bring a hand towel, toilet paper or tissues, pen, paper, emergency cash and spare change. It's also a good idea to bring a few shopping bags in case you need to buy something and a blanket if the weather is cold or you're going to the park or baseball game. If you're going to travel for an extended period, pack along some change of clothes in case of an emergency. If it's the rainy season or winter, bringing along clothing is necessary just so you don't end up drenched in snow or rain.