A Look at Meineke History and Services
Meineke is an American automotive repair company with headquarters in Charlotte, North Carolina. Since the company was founded in 1971, it has gained popularity throughout the United States and is renowned for their services including but not limited to oil change, tires, wheels, brakes, batteries and more.
Below are the latest Meineke Prices.
Meineke Prices & Services
Service
Price

Meineke Oil Change Services

Includes Oil, Filter, 23-Point Inspection, and Tire Pressure Check
Conventional
$24.95
Blend
$34.95
Synthetic
$59.99
Meineke History
The company was founded by Sam Meineke in Houston, Texas, and by 1972 began franchising the name with Harold Nedell. By 1982 the company had managed to sell more than 600 franchises, attracting the attention of GKN, a UK multinational firm. That same year GKN bought the company and three years later moved the headquarters to Charlotte, North Carolina.
In 2006, its parent company came to be known as Driven Brands, Inc. and purchased Econo Lube 'N Tune Inc., a quick oil change company. As of 2013, the firm has more than 900 franchises scattered throughout the United States, Canada, Brazil, Saudi Arabia, China and the Caribbean. Regardless of the location, the firm offers a wide array of services and products for customers.
The company offers a wide array of oil change options for your engine so it continues running at maximum performance. With their team of expert technicians and mechanics, you're assured that whenever you take your car to one of their centers it undergoes a thorough cleaning and checkup. All particles and dirt that your engine picked up will be cleaned. The oil change service provided moreover, ensures all the moving parts are running smoothly, at the same time it keeps the motor cool to help extend your car's running life.
Meineke Wheels and Tire Services
The company also offers an extensive array of services related to wheels and tires. Once your vehicle is serviced at one of their centers, a technician will check if the tire pressure is correct and if it needs replacement.
Meineke Brakes
The company also offers a comprehensive brakes service, and these inspection services are provided free of charge. At the same time, their technicians will explain to you how often you need to change your tires, what brakes you need for specific driving conditions, the quality of the brake pads, rotor thickness and more. The importance of brake inspection cannot be overstated, which is why this is one of the company's most sought after services.
Meineke Batteries, Exhaust and Other Services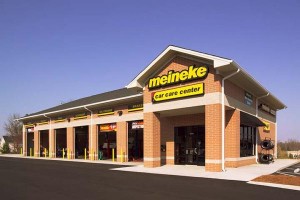 The company also offers comprehensive battery services, and their technicians will be more than happy to help extend the life of your batteries. They will also offer advice and tips to prolong the life of your battery such as keeping your car clean, parking in insulated areas and ensuring the battery is properly installed.
Finally, Meineke provides customers with exhaust and catalytic converter services to ensure that your car's engine is running smoothly. During a checkup, all the components like mufflers, pipes, manifolds and resonators are thoroughly evaluated to ensure that there are no problems with the engine. In addition, their service centers will also perform checks on the suspension and steering so bumpy rides can be avoided while driving.
For more information on Meineke and their services or to find the closest Meineke locations, visit their official website. Don't forget to check out our Meineke Coupons page for discounts and specials.
Meineke Hours
| | |
| --- | --- |
| Monday | 7:00 am - 6:00 pm |
| Tuesday | 7:00 am - 6:00 pm |
| Wednesday | 7:00 am - 6:00 pm |
| Thursday | 7:00 am - 6:00 pm |
| Friday | 7:00 am - 6:00 pm |
| Saturday | 7:30 am - 4:00 pm |
| Sunday | CLOSED |