A Closer Look at Ziebart Services and History
Ziebart International Corporation is an American company that offers automobile detailing and rustproofing services. Its headquarters is at Troy, Michigan and is the franchisor of the automotive aftermarket shops that bear its name. Apart from rustproofing and detailing, the company offers a number of other products and services.
Bellow are the latest Ziebart prices.
| Service | Price |
| --- | --- |
| Start at | $19.99 |
History
The company's history began in 1959 in Detroit when its first outlet was opened. The venture proved successful and three years later in 1962 a location was opened in Ontario, Canada. Thanks to marketing and good word of mouth, the business flourished and as of 2009 had over 400 locations in 40 countries. While the company first became known for its detailing, its services were expanded to meet the demands of their clients. And thanks to franchising, it has become very successful.
Available Services
The company currently provides a host of car services including window tinting, scuff repair, undercoating and scratch protection. The company also has a wide array of automotive accessories available like trailer hitches, step bars, toolboxes, sunroofs and window deflectors.
Auto Detailing
However there's no question that the company is best known for auto detailing, and they provide a wide range of high quality detailing services. Whichever service you choose, you are guaranteed that trained technicians will use only the most innovative systems and proprietary products to ensure your vehicle is preserved and restored for years to come.
For superior paint protection, you can use Diamond Gloss Paint Protection, while their Rain Repellant ensures that you're able to see clearly even during rainy weather. They also provide an extensive interior detailing cleaning service that will remove all the bacteria in your vehicle. This cleaning solution doesn't just keep your vehicle's interior clean, but it also sanitizes everything and eliminates potential health hazard risks.
In addition, exterior detailing services are available, and unlike those provided by other auto services, the cleaning is very thorough and goes through even the hard to reach areas.
Protective Films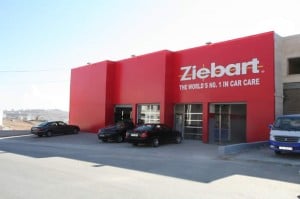 Apart from detailing, the company is also well known for its protective films that are designed to protect your vehicle's interior and exterior. Unlike the films used by other service companies, only the highest quality material is applied, and it is done so by licensed and trained technicians.
In addition, the company offers state of the art window tint services for different kinds of vehicles, and their Z-Shield Paint Protection Film provides superior adhesive protection for your vehicle's susceptible areas. This is of course, apart from their renowned rust protection that helps preserve a vehicle, whether it is old or new.
Ziebart also provides superior undercoating protection, and their Sound Deadener service ensures your vehicle receives an insulate protection layer to cut down on road noise. At the same time, this provides protection for the underbody and prevents salt, grime, dirt and moisture from accumulating, all of which lead to premature rusting. Finally, they also offer complete germ protection via the Germ Defender, which is 100% nontoxic and keeps bacteria, germs and microbes from spreading in the vehicle.
For more information on Ziebart and their services or to find the closest Ziebart locations, visit their official website. Don't forget to check out our Ziebart Coupons page for discounts and specials.
Ziebart Hours
| | |
| --- | --- |
| Monday | 7:30 am - 5:30 pm |
| Tuesday | 7:30 am - 5:30 pm |
| Wednesday | 7:30 am - 5:30 pm |
| Thursday | 7:30 am - 5:30 pm |
| Friday | 7:30 am - 5:30 pm |
| Saturday | 9:00 am - 3:00 pm |
| Sunday | CLOSED |