Express Oil Change & Service Center is a US based automotive service provider with over 34 years' experience in the industry. Since the company was established it has expanded to more than 200 locations in 13 states throughout the South. Express Oil was founded by Jim Lunceford in 1979 in Birmingham, Alabama and become synonymous with quality auto service
Below are the latest Express Oil Change & Service Center prices.
Express Oil Change Prices & Services
Service
Price

Express Oil Change & Service Center

Full Svc Conventional Oil Change
$38.99
Full Svc MaxLife Oil Change
$58.99
Full Svc Synthetic Oil Change
$72.99
Air Conditioning Service
$79.99
Air Filters
$8.99
Belt Replacement
$98.99
Brake Service
$189.99
Cabin Air Filter
$38.99
Engine Light Diagnostics
$94.99
Coolant Flush
$79.99
Differential Service
$49.99
Emissions/State Inspections
$25.00
Fuel Filters
$39.99
Fuel System Cleaning
$79.99
Light Bulb Replacement
$6.99
Tire Rotation and Balance
$34.99
TPMS Diagnostics
$29.99
Transmission Service (Auto)
$69.99
Transmission Service (Manual)
$49.99
Tune Ups
$79.99
Wiper Blades
$10.99
10 Minute Express Oil Change
The company is known for a number of services, but it is their signature 10 Minute Oil Change that most people use, as it offers a thorough inspection of your vehicle to determine if all the parts are working and in good condition. During this service, Express Oil technicians will replace the oil with your own choice of full synthetic, semi-synthetic or conventional oil. In addition, they will replace the oil filter and inspect the antifreeze and windshield wiper fluid levels to make certain that they are at the appropriate level.
Furthermore, Express Oil technicians will evaluate the condition of your vehicle's hoses, belts, air filter and chassis, lubricating them if necessary. Furthermore, their technicians will check your vehicle's air filter, suspension and steering. Express Oil will also conduct a complete evaluation of your car's undercarriage, the brake lights, turn signals, headlights and other parts.
Fleet Services
Express Oil also has an extended set of fleet services available, and in fact the concept of express oil change was designed specifically for fleets. Express Oil is aware that fleet owners do not have the luxury of time and cannot afford long waiting times, as time lost could mean lost business opportunities.
Today Express Oil is servicing more than 4,000 fleet operators for both repair and maintenance. Unlike other automotive repair companies, Express Oil is available throughout the South and provides flexible and convenient servicing. Presently there are 199 service centers in the South available, and the work and inspection is completed in under ten minutes.
Aside from speed, Express Oil provides convenience, as they offer pick up and delivery of vehicles that are in proximity to their service centers. In addition, the company offers services on Saturdays, perfect as fleets are not as widely used or the business is closed. Furthermore, all services provided for the fleet are highly organized and delivered in an efficient manner.
Express Oil also uses a single invoice statement so billing is straightforward, and all billing and services are recorded for reference. In case it is necessary, Express Oil can determine your vehicle's service history regardless which location you had it serviced. In order to provide high quality service, the company only uses premium, high quality parts that match or exceed the specs set by the manufacturer, plus there is complete and comprehensive warranty.
Each Express Oil Change & Service Center has a staff of licensed, ASE certified technicians with years of experience behind them. Once your car has been sent to one of their service centers, you can be assured of premium car care using only state of the art technology, parts and equipment.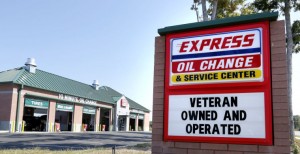 For more information on Express Oil Change & Service Center and their services or to find the closest Express Oil Change locations, visit their official website. Don't forget to check out our Express Oil Change & Service Center Coupons page for discounts and specials.
Express Oil Change Hours
| | |
| --- | --- |
| Monday | 8:00 am - 6:00 pm |
| Tuesday | 8:00 am - 6:00 pm |
| Wednesday | 8:00 am - 6:00 pm |
| Thursday | 8:00 am - 6:00 pm |
| Friday | 8:00 am - 6:00 pm |
| Saturday | 8:00 am - 5:00 pm |
| Sunday | CLOSED |