A Closer Look at Grease Monkey Services and Benefits
Grease Monkey is an automotive service company with locations in the United States and Mexico, the majority of which are independently run. The business was founded in 1978, with the initial focus on oil change but has since expanded to include other services. The headquarters is at Denver, Colorado.
Below are the latest Grease Monkey prices.
Service
Price

Oil Change

Mobile 1 Synthetic
$79.99
additional quart
+$8.00
Synthetic
$69.99
additional quart
+$6.00
Synthetic Blend
$49.99
additional quart
+$5.00
High Mileage
$49.99
additional quart
+$5.00
Conventional
$29.99
additional quart
+$4.00
Available Services At Grease Monkey
The company may have started with oil change, but since that time the service range has expanded rapidly and now includes air conditioning, air filter, batteries, brakes and emission reduction services. Their team of expert technicians will also look into your vehicle and check if it needs fuel filter replacement, gearbox service, lights or power steering. The company also provides radiator services, replacement for the serpentine belt, tires, transmission, windshield and more.
Grease Monkey Full Service Oil Change
The company's licensed and well trained technicians also provide you with a complete set of options for your oil change. With a full service oil change your vehicle will be provided full protection from wear and tear brought about by high temperatures. At the same time, a full service checkup at the company ensures your vehicle is using fuel properly. By having your vehicle inspected and maintained on a regular basis, potential problems can be avoided, plus it extends the lifespan of your vehicle.
You may also opt for the synthetic blend full oil service change, which uses a mix of synthetic and regular motor oil. This service results in improved protection for the engine, oil breakdown prevention and most importantly minimizes oil consumption, which translates to savings.
The high mileage full service oil change meanwhile, has been specially prepared for high mileage vehicles. In addition, the service includes professional protection for engine components with more than 75,000 miles, and it helps prevent varnish and sludge from accumulating. The service also includes seal conditioners so leaks don't occur, and you can also use the High Mileage Performance Boost Oil Change for optimum performance.
Grease Monkey Transmission Services
The company also provides a comprehensive transmission service, be it manual or automatic. During the service, the transmission pan is cleaned up and new gaskets and filters are installed. In addition, the fluid inside the pan is taken out and refilled,  by the end of the service, your vehicle's transmission is almost as good as new. Once the check up is complete you can expect the transmission to last longer, as their manual transmission service is particularly effective in reducing the effects of oxidation and deterioration due to heat.
Grease Monkey Gearbox Services
The gearbox services provided by the company will also extend the transfer case's life while reducing the effects of oxidation. At the same time the service cuts down the effect of deterioration brought about by high speed driving and intense heat. Finally, the service ensures that gears don't flake or wear out easily, something that could cause problems if left unattended.
Grease Monkey currently has more than 200 locations and they are still accepting franchises. In 2008, the company opened several locations in China, a clear indication that they are expanding operations.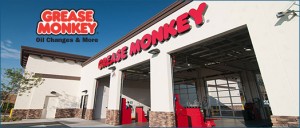 For more information on Grease Monkey and their services or to find the closest Grease Monkey locations, visit their official website. Don't forget to check out our Grease Monkey Coupons page for discounts and specials.
Grease Monkey Hours
| | |
| --- | --- |
| Monday | 8:00 am - 6:00 pm |
| Tuesday | 8:00 am - 6:00 pm |
| Wednesday | 8:00 am - 6:00 pm |
| Thursday | 8:00 am - 6:00 pm |
| Friday | 8:00 am - 6:00 pm |
| Saturday | 8:00 am - 5:00 pm |
| Sunday | CLOSED |