Midas Inc. is a subsidiary of TBC Corporation, and consists of more than 2,300 locations around the United States, Canada and other countries around the world. The center of Midas oil change operations is in Itasca, Illinois, and their other service centers are either franchised or duly licensed.
Below are the latest Midas Oil Change Price.
Service
Price

Midas Touch Brake Service

Brake Inspection
$19.99
Lifetime Guaranteed Pads or Shoes Installed
$99.99
Brake Fluid Service
$69.99
Clean/Adjust Drum Brakes
$43.75

Tires

Tire Inspection
FREE
Tire Rotation
$15.00
Wheel Balance
$40.00

Heating & Cooling

Air Conditioning Inspection
$39.95
Air Conditioning Diagnosis
$87.49
Coolant Service
$89.95

Steering & Suspension

Visual Suspension Check
FREE
Gabriel Lifetime Guaranteed Shocks
Call
Gabriel Lifetime Guaranteed Struts
Call
Alignment (4 wheel)
$69.99
Hourly Labor Rate
$87.94
Spark Plug Replacement
Call
Maintenance Tune-up
Call
Factory Schedule Maintenance
Call

Midas Touch Maintenance

Midas Touch Maintenance Package
$34.95
Oil & Filter Change
$27.95
High Mileage Oil
$39.95
Synthetic Blend
$69.95
Synthetic Oil
$89.95
Fuel Injection Service
$89.95
Power Steering Fluid Service
$89.95
Midas Touch Courtesy Check
FREE
Brake Fluid Service
$69.95
Wiper Blades & Lighting
Call

Midas Touch Exhaust Service

Visual Exhaust Check
FREE
Lifetime Guaranteed Muffler
$59.95
Performance Exhaust featuring Flowmaster
Call
Catalytic Converter
Call
Oxygen Sensor Replacement
Call

Starting & CHarging

Starting and Charging Diagnosis
$19.95
Battery
$79.95
Hourly Diagnostic Rate
$87.49
Historical Background
The company's history began in 1956 when the Muffler Installation Dealers' Associated Service (M-I-D-A-S) was created by Nate H. Sherman, with the first Midas Muffler opening in Macon, Georgia that same year. The name was derived from the fact that the company specialized in muffler replacement.
As the years passed however, the company expanded its operations and began marketing themselves as complete auto service experts, capable of inspecting suspensions, fluid changes, brakes and other automobile services. The new approach proved very successful and Midas began franchising and expanding.
Available Services
Midas offers a variety of auto services including brakes repair, oil change, tires and tire repair and exhaust and mufflers. In addition the company offers a thorough check of your vehicle's engine, hoses and belts, heating, A/C, suspension, steering and more. Regardless of the service you choose, you will get the Midas Touch Courtesy Check where their experts will look over your vehicle outside, inside, under the hood etc. and furnish you with a detailed written report of their findings.
During the Midas Touch Courtesy Check visual inspection your brake fluid and engine air filter will be examined thoroughly as well as the power steering fluid and automatic transmission fluid, and they will also explain what those fluids and filters mean and what the manufacturer recommendations are. Unlike other automotive service companies, all Midas mechanics are ASE certified and qualified to take care of all auto repair problems and maintenance issues.
Complete Auto Repair and Maintenance Service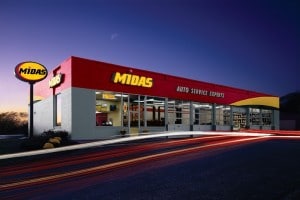 Unlike other automotive services, Midas offers a complete service checkup to ensure that your vehicle lasts longer, is more reliable and fuel efficient. When you take your vehicle to any of their service centers, you can expect an expert car mechanic to perform a thorough diagnostic test, and they are capable of maintaining different vehicle makes and models.
Because the company has thousands of locations around the world, it's easy to find one near you. While their mechanics are capable of performing routine maintenance checkups and oil changes, they are also qualified to make tire rotations and repairs related to wear and tear. All the major components of your vehicle such as suspension, steering, mufflers and brakes are covered as well. Even if you need to just put new tires on, their mechanics can help.
In addition to these services, you also get the Midas Guarantee, as it is the first automotive repair company that provided lifetime guarantees on services, and today they offer customers a guarantee for all the work they do.
In 2012, Midas was purchased by TBC Corporation, and according to the company, they are in the process of expanding services to better meet the needs of their customers. So aside from Midas oil change their customers can expect a lot more now.
For more information on Midas and their services or to find the closest Midas locations, visit their official website. Don't forget to check out our Midas Coupons page for discounts and specials.
Midas Hours
| | |
| --- | --- |
| Monday | 8:00 am - 7:00 pm |
| Tuesday | 8:00 am - 7:00 pm |
| Wednesday | 8:00 am - 7:00 pm |
| Thursday | 8:00 am - 7:00 pm |
| Friday | 8:00 am - 7:00 pm |
| Saturday | 8:00 am - 6:00 pm |
| Sunday | CLOSED |